Lani Nash
November 9, 2019 @ 6:00 pm

-

8:00 pm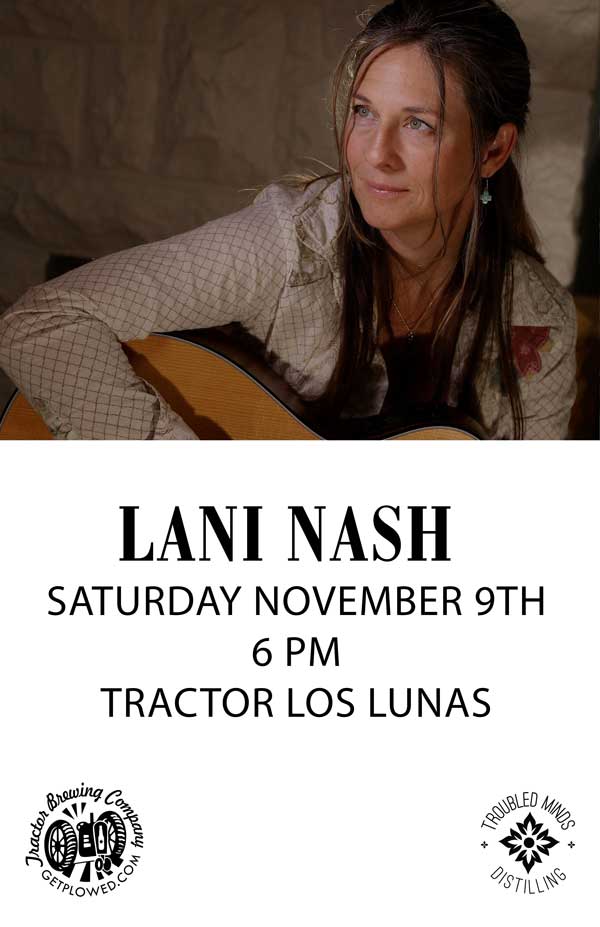 Lani Nash, a notable singer songwriter known for her poignantly beautiful writing and vocals that linger with a genuine heartfelt quality, moves audiences of all ages.
Originally from Phoenix, Arizona, her musical start came before she was born. Lani's grandfather, Connie Crunk (stage name Connie Conway), a noted musician, singer, songwriter, producer, and music teacher worked with songwriter/producer Lee Hazelwood (writer of "These Boots Are Made of for Walking"(Nancy Sinatra), and producer of Wayne Newton) was a great inspiration for Lani. Her mother and aunt, daughters of Connie Crunk, were also in a recording group called "The Three Teens" as teenagers.
Nash moved to Oklahoma at the start of her career and toured with her band "The Bootnicks" throughout the south and later moved to Nashville. She has performed, written, produced and released three albums to date. Lani co-produced her 2009 release "I'm Only Here for the Music" with Steve Durr, which hit the top 40 on the AMA charts.
Her Latest Release "ONE" was written produced and arranged by Nash at The ShowRoom, Nashville. Steve Durr: executive producer; mix & recording engineer Matt Schlachter.
"ONE" has been a wonderful journey, and I am grateful for the incredible opportunity to work with such an amazing team of creative musicians, engineers, & supportive friends on this project. It was my desire to create something uplifting, all inclusive, with a positive message, and still remain commercially viable enough to spread this message far and wide. It was an honor to cover one of my all time favorite songs, "Imagine" by the late John Lennon…These new compilations, with full instrumentation & beautiful string arrangements (Cello, Viola, Violin) have taken on a real life of their own, I'm truly blessed"…states Lani Nash
Her live performances have included venues such as Nashville's Blue Bird, 3rd and Lindsley, Douglas Corner, Blue Bird on The Mountain, Pensacola Songwriter's Festival, Vermont's Maritime Festival, Legendary Dobbs (Philly), NYC's The Bitter End, Bowery Electric, The Living Room, Oklahoma – VZD's and Oklahoma Civic Center, South Florida- The Luna Star Café, Smokin Tuna' (Key West), Folk Club of South Florida featured Songwriter dates amongst many others.