8 Bit Psychedelic Folk Fest
March 20, 2019 @ 8:00 pm

-

10:00 pm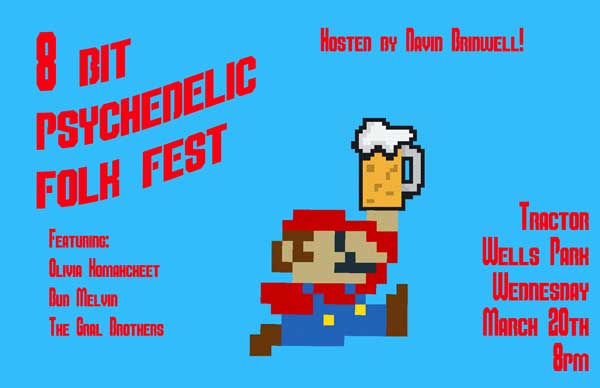 Olivia Komahcheet is a 20 year old multi-instrumentalist and Artistpreneur. She goes all in when she mixes guitar loops, inspiring the crowd with her musical and artistic abilities.
If you scour the depths of the internet you can find footage of Bud Melvin mesmerizing the folks at the Tokyo Blip Fest with his 8 Bit Nintendo sounds and banjo. We recommend coming out to Tractor to see him live, it's much safer than the things you can stumble on in the depths of the internet. 
The Gral Brothers are Alex McMahon and Greg Williams. They show such amazing steep pedal and drum chemistry that you'll be convinced that they are in fact genetically related.  
David Bridwell is known for writing songs with a straightforward honest humor. He just released a new song about new pants called New Pants.