Austin Van
February 7, 2020 @ 5:00 pm

-

7:00 pm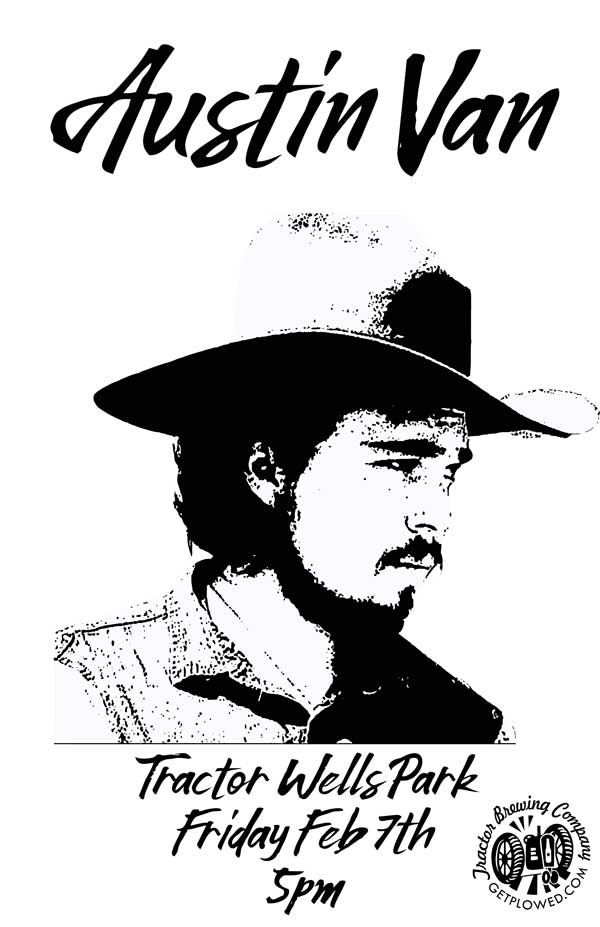 Austin Van's first time on stage was with his father, who while performing, lifted two-year-old Austin up to reach the microphone to sing a few lines with the family band. From that time on, Austin hasn't left the spotlight.
Growing up the youngest of a very large family among generations of country & western bands, Austin has a deep-rooted love and appreciation for country music. Some of Austin's musical influences have been Merle Haggard, Waylon Jennings, Johnny Cash, Dwight Yoakum, Hank Williams Jr. and Elvis Presley. When he performs, he emanates their rhythms, stance, and edge; but he does it with a self-assuredness and charisma all his own.
As a child, Austin was more likely to be found in the family's band room than on the playground. His uncle taught him guitar at five years old and he formed his first band called, "Austin Van & the Rattlers." Austin's passion for music and performing gave him the drive to continue evolving as an artist as he grew up. While other kids were playing video games, Austin was honing his skills as a musician. He's a seasoned lead singer and guitar player and is the type of musician who can easily transition to bass or drums and other instruments. Since he was five years old, Austin has been playing at county fairs, motor cycle rallies and HonkyTonk dances all around New Mexico. A highlight in Austin's teens was playing for The Governor's Ball. He has been headlining at a western bar in the Jemez Mountains every Friday night since he was 15 years old. He won a state talent competition as part of Future Farmers of America.
Austin has opened for Country Music Artists Clint Black, Randall King and John Wolf and Shooter Jennings.
Austin just turned 21 in January and is now playing monthly at casino's around New Mexico and weekly at Los Ojos Saloon and The Blue Grasshopper Pub. Austin has appeared often at The SANDBAR in Albuquerque. He's developed a solid fan following across New Mexico, playing Rodeos and County Fairs. His music includes a combination of old songs his father wrote, country covers, Elvis Presley, rock 'n' roll, and some of his own originals. He can play just about any country song you can think of, (but he's more likely to think of it before you do).
Austin is a true entertainer with an unforgettable stage presence. His talent, confidence, and charisma are sure to dazzle any audience he plays for.