Beer On Beer
March 30, 2019 @ 6:00 pm

-

8:00 pm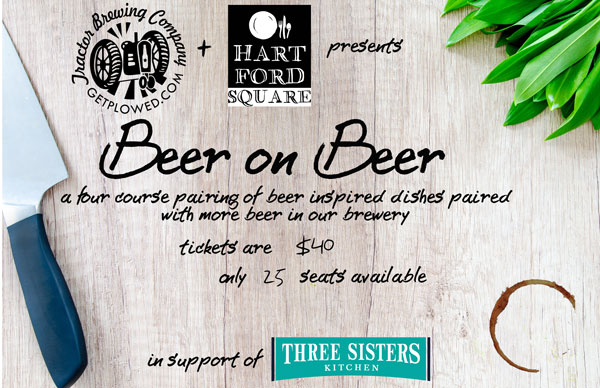 Join Tractor Brewing Company, Hartford Square, and Three Sisters Kitchen for a celebration of local flavors to benefit Albuquerque's newest non-profit community food organization: Three Sisters Kitchen.
Three Sisters Kitchen uses the power and love of local food to create economic opportunity, improve community health, and bring our diverse communities together. Hartford Square is cooking up a delicious four course tasting menu, each dish features local ingredients including Tractor beer – and is paired with Tractor Brewing's finest local beverages. Come eat, drink, and be local!
A Field Beer cheese course paired with the Acreage IPA. A salad w/glazed vegetables using the Berry Cider paired with the Pilsner 15. Lamb using the Scotchocolate paired with the Farmer's Tan Red Ale. And lastly, a chocolate dessert using the Russian Imperial Stout paired with the Milk Mustachio.
Tickets are $40 and only 25 seats are available. Purchase tickets here: https://holdmyticket.com/event/337470