Benny Bassett
December 20, 2019 @ 6:00 pm

-

8:00 pm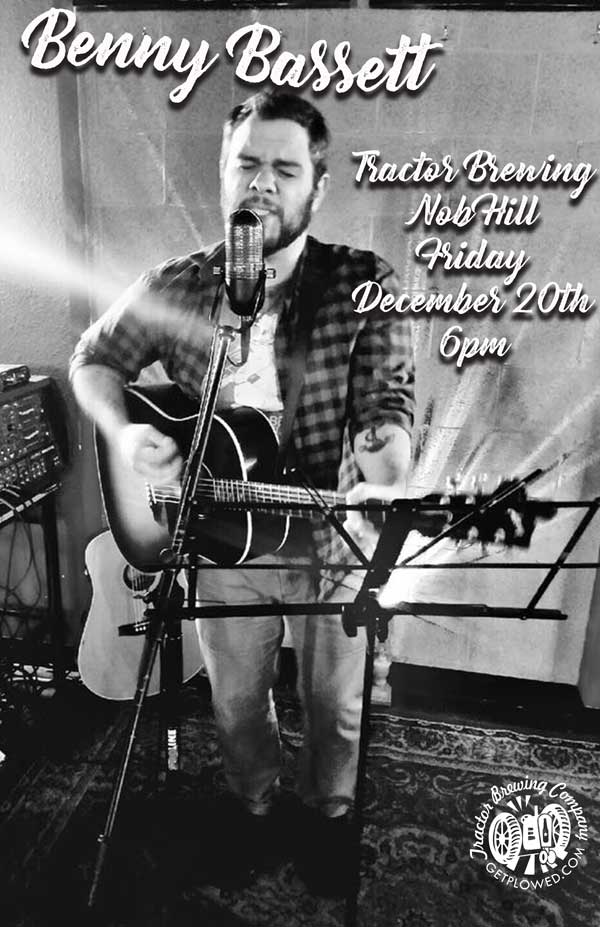 Goodbye … I'm sorry … I love you … there are a litany of phrases that pack an emotional punch in only a few short words. We use them all the time, in passing, and with varying degrees of sincerity. But as meaningful as these sentiments can be, there are also equal amounts of moments in life, where we watch our opportunity to say them pass. The moments play out like a Hollywood movie reel, in slow motion. A significant life event occurs, we lose a loved one, we fall in love, or we find ourselves out of control, and like a crescendo in a powerful symphony, our moment comes, but for whatever reason, the words are stuck in our throat. We miss our chance.
The second EP release from acoustic rocker Benny Bassett is a collection of variations on this theme, titled "Words for Yesterday". Each song, presents a different scenario where the actor, maybe the artist himself, is lamenting the inability to say what needed to be said. Whether it is a fleeting chance at love in "From You", or the gut-wrenching apology in "Window to Forever", Bassett attempts to illuminate the process of recovering from inaction. "This record is about a collection of moments where we either wish we had taken the opportunity to act, or where we try to act, but the moment has passed, or the intended audience has moved on", says Bassett. What he found through the time leading up to the creation of this album, is that "you start to doubt yourself, and your ability to live in the moment as a genuine being … you relive this quintessential life moment over and over, and try to chase down what you should have done. It can be self-defeating, depressing, and ultimately it can take a long time to realize your opportunity is gone."
The third track on the EP "Down Below" is an anthemic rocker that drives home the point. The lyrics paint a protagonist enveloped by the flames of controversy, left over as the result of a relationship gone wrong. "That song gets at the heart of this record", says Bassett. "Breakups are always difficult, but if neither person gets closure, each of them tells a different story about why it happened, and often times it can get ugly."
For Bassett, his path to becoming a professional musician involved one of these defining life moments. Not too long ago Benny was a lawyer in Chicago, Illinois. After several years playing music in the Chicago scene, he found himself as the co-leader of a Chicago band called Vintage Blue. They found some success in commercial radio, and on the summer festival scene, playing various Chicago street festivals, and two slots at Milwaukee's Summerfest; but he wanted more. Between 2015 and 2016, the band split, Benny turned his back on the legal profession, and he launched his solo career with his first EP "These Dreams". Now, through this new album, Benny is refusing to let this new opportunity pass without speaking up.
For two and half years, Benny has pursued the journey of a solo troubadour, logging over 200,000 miles, and close to 500 shows. While watching the odometer spin, behind the wheel of his tour SUV "Sally the Saturn", Benny has had his fair share of missed opportunities, moments that escaped, and yes, mistakes. But that same pursuit, also brought him the inspiration for this collection of songs, which includes performances from Travis McNabb (Sugarland, Better Than Ezra) on drums, Kit Karlson (Stephen Kellogg & The Sixers) on keyboard, piano, organ, and Chip Johnson (Alternate Routes) on bass and guitar. The album was constructed, recorded, and produced by Karlson and Johnson at their studio in Gainesville, Virginia, called Alpine Red Studios.
The six song EP is set to debut in Spring of 2019, and will be accompanied by a lengthy international tour, that is currently set to include performances across the United States, North America, and Europe. For more information on promotions, booking, or joining the Benny Bassett community, please head to www.bennybassett.com