Kick, Push, Coast And Brews
May 3, 2018 @ 6:00 pm

-

9:00 pm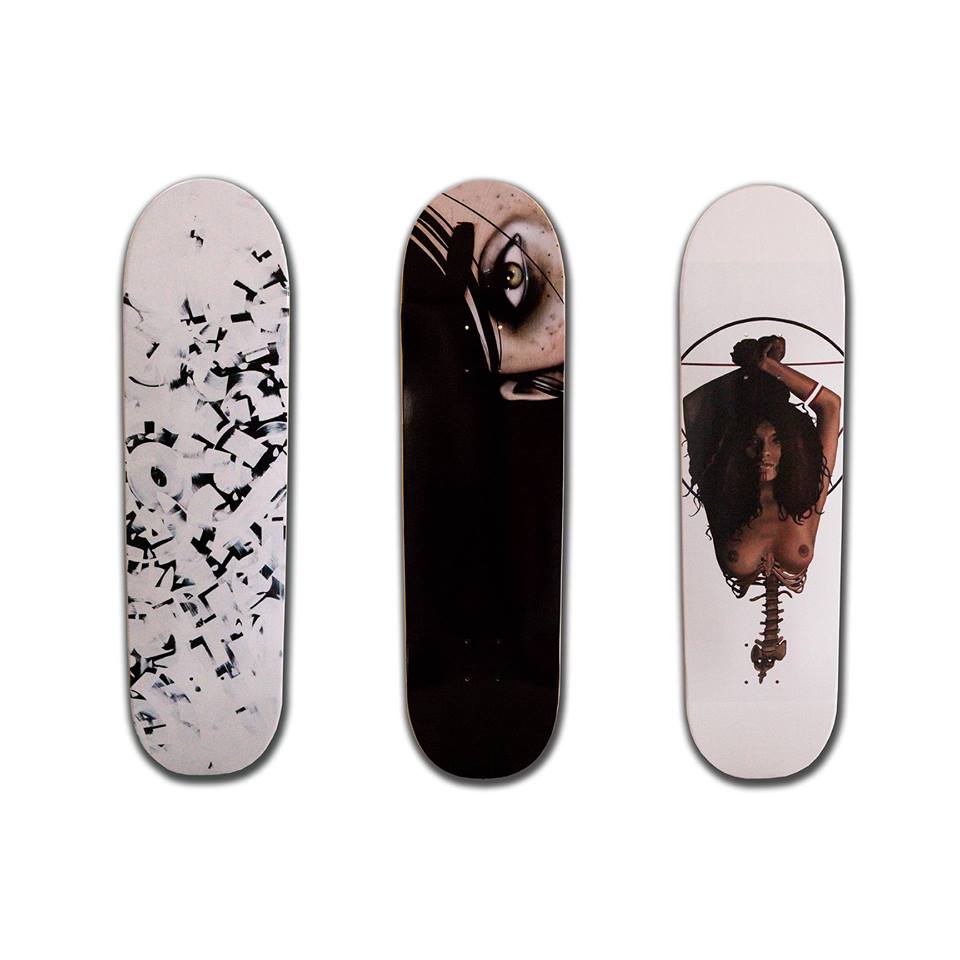 KICK, PUSH, COAST AND BREWS…
KAMAGRAPH AND TRACTOR BREWING TEAM UP FOR THE LOVE OF SKATEBOARDS
ALBUQUERQUE, NM | The team at Tractor Brewing Wells Park have joined forces again with Kamagraph, for the Beer and Boards art show, on May 3, 2018 from 6:00 – 9:00 PM. This unique and exciting partnership kickoffs the first of several shows that Kamagraph will be producing.
Kamagraph has asked 30 local artists to hand-paint blank skateboard decks and create a work of art for the upcoming Beer and Boards show. This year's exhibit creates a unique platform using skateboard decks as a canvas (and voice) for artists of all genres that transcends the typical art world. The canvas itself breaks down barriers and cultural perceptions. It creates an expression of fine art that you normally wouldn't experience in a gallery or museum. The skateboard is a symbol of individual style that connects all cultures, differences and communities. It is a symbol of freedom.
I love watching artists navigate themselves through the ever-changing art world and achieving a coalescence in their artwork with skateboard decks," – explains Bobby Beals, co-owner of Kamagraph.
Tractor Brewing has consistently supported local Albuquerque artists since its inception and continues to do so in creative and innovative ways. "We are ecstatic to be host to this years Beers and Boards in collaboration with Kamagraph. We have always been avid supporters of New Mexico art, and can't wait to bring the crossroads of skating, arts, and culture to our taproom and audience," said Jeremy Kinter, Tractor Brewing Events and Marketing Director.
Along with the original hand-painted skateboard decks, Kamagraph will release three new limited edition decks featuring Albuquerque artists, Jodie Herrera, David Santiago and Reyes Padilla. These artists have raised the bar of artistry in the Duke City and have participated in group and individual art shows across the country.
With an opening reception, on May 3rd at 6:00 PM, with musical guests Gunsafe, an all female folk/country/Americana band, a game of S.K.A.T.E. that gives skaters a chance to win a Kamagraph deck and merchandise and a variety of local artists to meet, along with some of the best beers in New Mexico; this event is sure to ring in May.
The skateboard deck exhibit will continue from May 1 – May 31, 2018 and all of the art can be collected on sight at Tractor Brewing Wells Park or online through kamagraph.com beginning May 1st.
Tractor Brewing is located in the heart of Albuquerque at 1800 4th Street NW.
ABOUT TRACTOR BREWING:
Tractor Brewing has been helping New Mexicans get plowed with award winning beer since 1999. Tractor products include Almanac IPA, Farmer's Tan Red Ale, Milk Mustachio Stout, Delicious Red Hard Apple Cider and Seasonals too! Tractor Brewing Wells Park is located at 1800 4th Street NW, in Albuquerque. Visit for getplowed.com for more information.
ABOUT KAMAGRAPH:
Kamagraph, founded in 2014, is a skateboard company that symbolizes an idea, an attitude, and personal artistic expression with a belief in art, beauty and quality. They specialize in limited edition decks, fine art prints and original artworks. Visit kamagraph.com for more information.