Noir at the Bar
August 24, 2019 @ 7:00 pm

-

10:00 pm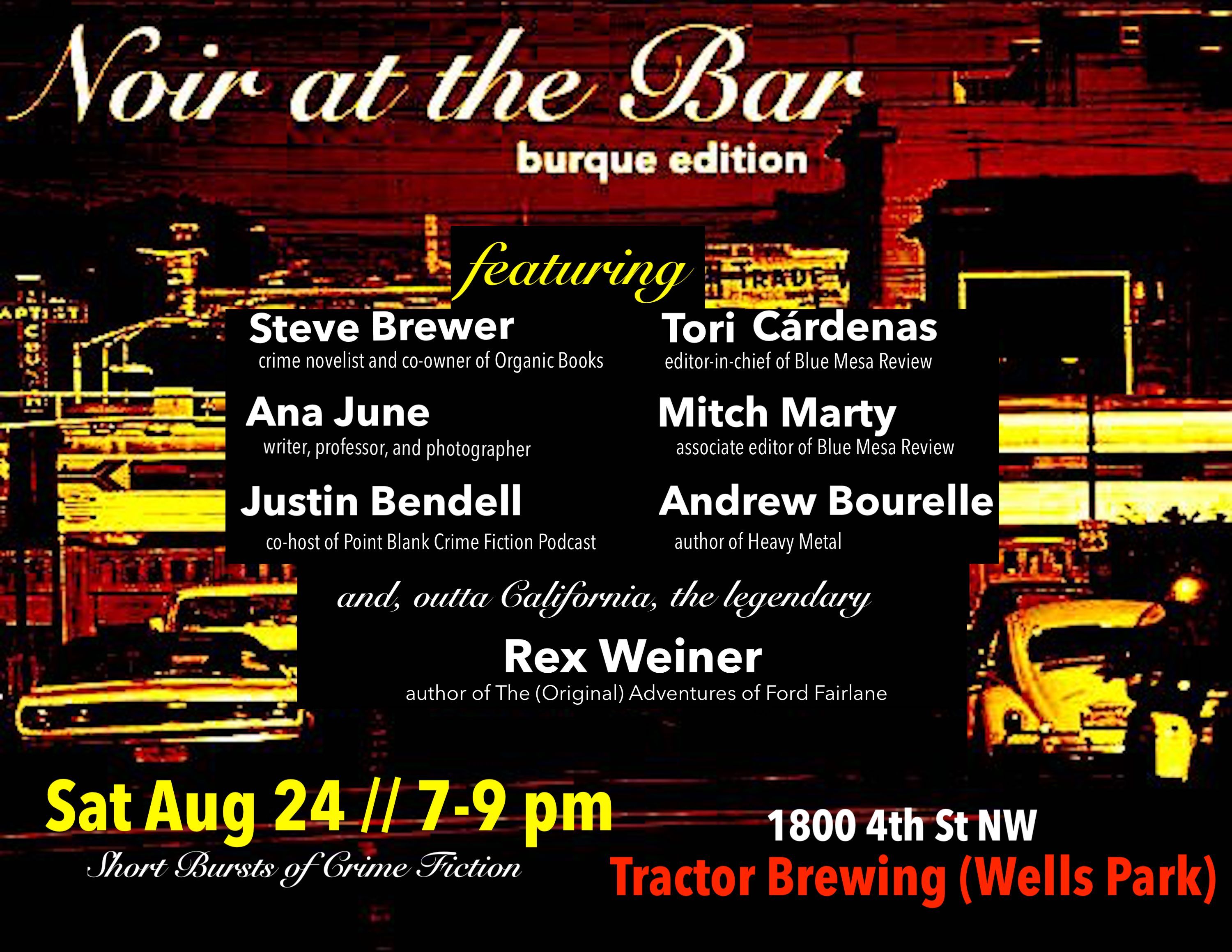 Noir at the Bar is an event where writers drink beer and read short bursts of original crime fiction to an audience who is also drinking beer. Part literary reading, part social gathering, the point of Noir at the Bar is to bring the crime fiction community together — those who read, those who write, those who are curious — to read, listen, drink, and be merry.
If you want to read more on the history of Noir at the Bar, check out this link: http://litreactor.com/columns/noir-at-the-bar-an-oral-history
Over the last ten years, dozens of Noir at the Bar events have been organized around the US. There are events in LA, Seattle, NYC, Miami, Denver, but not Albuquerque–until now!
We are excited to be co-hosting this event with Tractor Brewing (Wells Park). Thanks Tractor!
We have a terrific line-up of readers, starting with our special guest, Rex Weiner, author of The (Original) Adventures of Ford Fairlane and Executive Director and co-founder of the Todos Santos Writers Workshop.
Rex Weiner is an editor, author, journalist and screenwriter based in Los Angeles. A founding editor of High Times Magazine, for which he recently interviewed Jack Reacher author Lee Child, his articles have appeared in publications such as Vanity Fair, the Los Angeles Times, The New Yorker, and The Paris Review. He was a writer for the Miami Vice TV series and his film credits include The Adventures of Ford Fairlane, the 20th Century Fox movie based on his original stories, now available as a book. His crime fiction stories have appeared in Switchblade Magazine, Pulp Modern and EconoClash Review. He is also Executive Director and co-founder of the Todos Santos Writers Workshop.
Other readers include local luminary Steve Brewer, along with a talented group of New Mexico crime fiction writers including: Tori Cárdenas, Andrew Bourelle, Ana June, Justin Bendell, and Mitch Marty.
Steve Brewer writes books about crooks. His most recent novel, COLD CUTS, was his 31st published book. His first novel, LONELY STREET, was made into a 2009 Hollywood movie. He and his family own Organic Books in Nob Hill.
Tori Cárdenas, Editor in Chief Blue Mesa Review, graduated from UNM in 2014 with her Bachelor's in History and Creative Writing, and now she's back for the sequel: earning her MFA in Fiction. Her work has appeared in Conceptions Southwest, Cloudthroat, Pantheon Magazine's Gorgon Anthology, Writer's Resist, and VICE. She enjoys cacti, shouting at New Mexico United games, and driving with the music turned all the way up, in true Albuquerque fashion.
Andrew Bourelle is an assistant professor of English at the University of New Mexico. His debut novel, Heavy Metal, was published in 2017 and won the Autumn House Fiction Prize. He also coauthored the 2018 novel Texas Ranger with bestselling author James Patterson. His short fiction has been published widely, including twice in The Best American Mystery Stories.
Justin Bendell is a former aspiring grassland ecologist who now writes stories about dead people. He is an assistant professor of English at The University of New Mexico – Valencia. ​He edits Manzano Mountain Review, records garage rock with fuguers cove and antifascist black metal with Anarchist Wolves. He also co-hosts Point Blank Crime Fiction Podcast. His stories and poems have appeared in Mystery Tribune, Thuglit, Meridian, 3:AM Magazine, Hayden's Ferry Review, and more. Like a thousand other suckers, he is working on a crime novel.
Ana June grew up in Santa Fe, where she worked for 15 years as a graphic designer, photographer, and writer. In 2017, she earned an MFA in creative writing from the University of New Mexico, and now teaches English at UNM-Valencia and CNM. Her writing has appeared in Hip Mama Magazine, the Hip Mama anthology, Breeder, New Mexico Magazine, The Rumpus, Santa Fe Literary Review, and in the forthcoming anthology, Santa Fe Noir, by Akashic Press. She is currently at work on a memoir and a novel, and lives on a mini farm in Belen, NM, with her family.
Mitch Marty, is Associate Editor of Blue Mesa Review: Marty is a a third-year Creative Writing MFA student in Nonfiction at the University of New Mexico. After relocating to Albuquerque from the Midwest, he started shooting 35mm film photography to explore the changing urban spaces and environment around him, cataloging its construction, decomposition, and history.