Sk8boarding
October 5, 2018 @ 6:00 pm

-

9:00 pm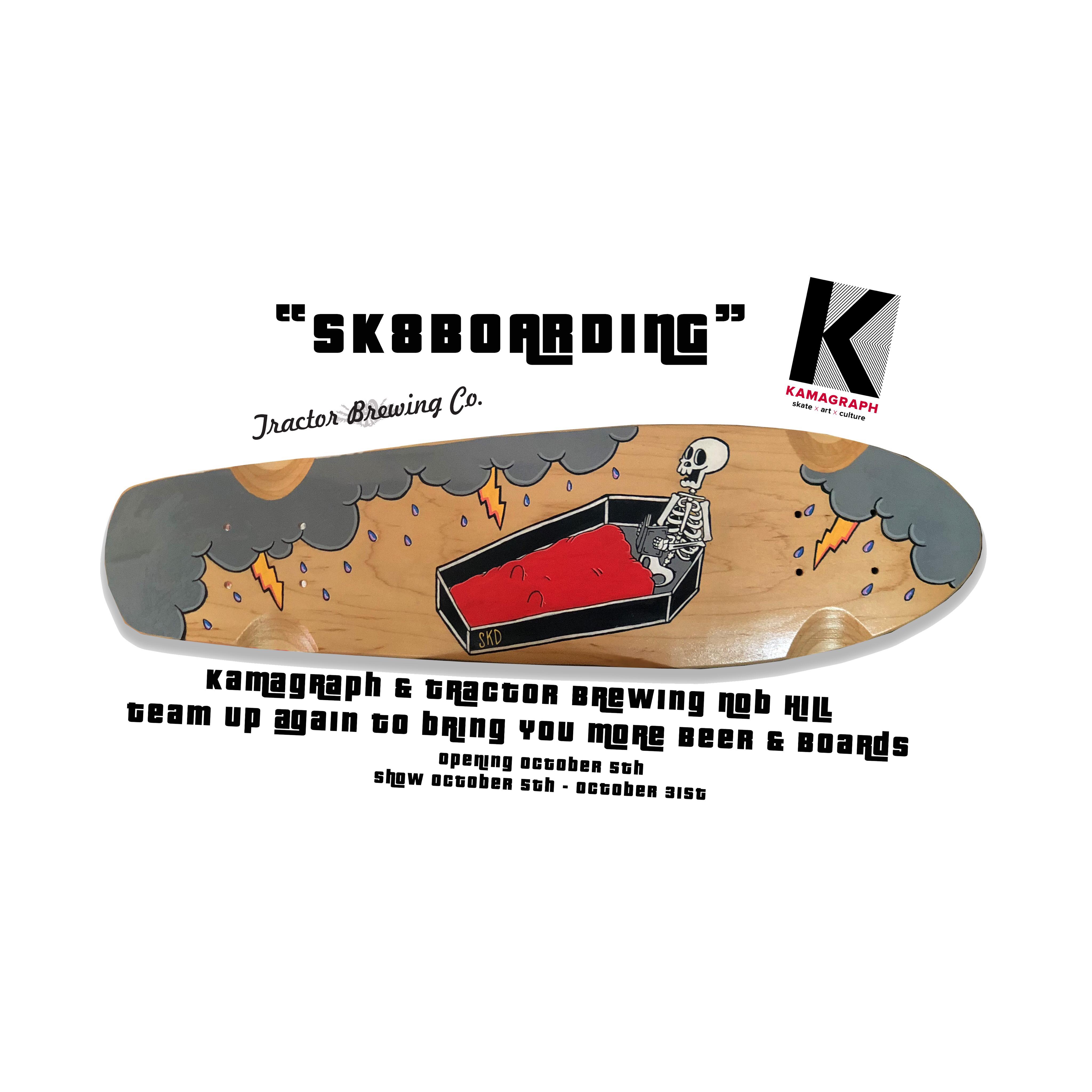 The team at Tractor Brewing Nob Hill have joined forces again with
Kamagraph, for the Sk8boarding art show, on October 5, 2018 from 6:00 – 9:00 PM. This unique and exciting partnership is in conjunction with several shows that Kamagraph will be producing.
Kamagraph has asked 30 local artists to hand-paint blank skateboard decks and create a work of art for the upcoming Sk8boarding show. This year's exhibit creates a unique platform using skateboard decks as a canvas (and voice) for artists of all genres that transcends the typical art world. The canvas itself breaks down barriers and cultural perceptions. It creates an expression of fine art that you normally wouldn't experience in a gallery or museum. The skateboard is a symbol of individual style that connects all cultures, differences and communities. It is a symbolof freedom.
"I love watching artists navigate themselves through the ever-changing art world and achieving a coalescence in their artwork with skateboard decks," – explains Bobby Beals, co-owner of Kamagraph.
Tractor Brewing has consistently supported local Albuquerque artists since its inception and continues to do so in creative and innovative ways. "We are ecstatic to be host to this years Sk8boarding show in collaboration with Kamagraph. We have always been avid supporters of New Mexico art, and can't wait to bring the crossroads of skating, arts, and culture to our taproom and audience," said Jeremy Kinter, Tractor Brewing Events and Marketing Director.
The skateboard deck exhibit will continue from October 5, 2018 – October 31, 2018 and all of
the art can be collected on sight at Tractor Brewing Nob Hill or online through kamagraph.com beginning October 5th. Tractor Brewing is located in the heart of Albuquerque at 118 Tulane Dr
SE, Albuquerque, NM 87106.