Zack Freeman
March 3, 2018 @ 5:00 pm

-

7:00 pm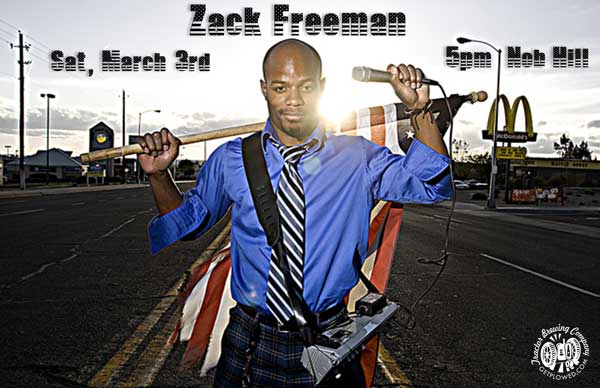 've been performing as a solo musician since 2003. I am a member of the Cuebro Brotherhood and I released two solo albums in 2009. The first was a compilation of live tracks and the second was a collaboration with TuMan Productions called…TuMan Presents: Zack Freeman. Wildly creative title…we know. This year Cuebro also licenced a track called "5 Days Left" which was featured in a Corona Beer commercial in late October.

My music goes like this.
One layer of beat box. One layer of grungy guitar sound. 3 layers of backup singing and one layer of bass line. All from one mouth. A sampler swings from my neck as I sing each part and loop the fragments together to create soundscapes that vary from funky breaks to sorrowful dirges about the hypocrisy of materialism. The process takes anywhere from 45 seconds (2006 America's Got Talent) to 3 minutes. It is literally a live recording session with only one person at the helm. I usually perform solo, creating full songs out of thin air and lacing them with a pack of original lyrics. No song is ever sung the same so the audience always experiences a new performance.
My music is a cappella. All the sounds come from the my mouth. My background as an a cappella singer and beat boxer give me the unique ability to combine the rhythm of hip-hop with soulful melodies and the stability of a drum 'n bass track.